Today we have another from the European Bureau of Offbeat Eats (aka my brother, who for some reason likes the name Mr K. Piltdown):
In an attempt to redeem our reputation, somewhat sullied by reviewing high-concept over-priced pabulum served in the dark, the European Bureau of Offbeat Eats has attempted to get back in touch with the culinary roots of this blog. Although we at the European bureau can't really compete with Los Manjares de Pepe after a hot day of dropping things out of airplanes, the least we can do is find a decent hot dog in continental Europe.
As sometimes happens, you may find yourself on the scenic route from Flensburg (in the northern German region of Schleswig Holstein) to Sønderborg, Denmark. If you haven't had your fill of herring and potatoes in Flensburg, you might be able to fill in the cracks with one of the better hot dogs on this side of the Atlantic. Not long after you cross the Danish frontier, you run across a roadside shack guaranteed to draw in any of the Offbeat Eats cognoscenti.
Annie's, evidently run be the self-same Annie, has been dishing up hot dogs along this bit of the Flensburg Fjord. The layout is simple… you walk up to the counter, order from the menu on the wall, and get your toppings for your dogs to order. If your Danish is a bit weak, just point. Ice cream is also on offer.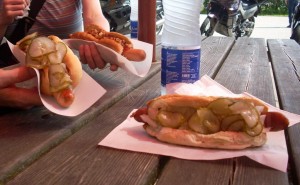 While we didn't get a chance to sample everything, the basic offering is a either a pork or beef hotdog. With the standard pork dog you get a choice of grilled or boiled, beef is mysteriously just boiled. You get a choice of toppings. A dog with everything gets you ketchup, mustard (German-style), remoulade sauce (a Danish specialty), crispy fried onion bits, raw onion, and pickled cucumber slices. (Lightly pickled, like a US kosher style.) The fried onion bits get dispensed using a neat little stainless steel apparatus. Annie's other options include the classic "French Style" where a piece of baguette is impaled and the hotdog inserted in the bread, as well as various regional sandwiches and sausages.
The field team sampled the hotdogs, served up by Annie herself. The results are shown here. Overall? Quite good. Basically, the best dog so far in Europe. Even by my exacting US standards, not bad at all, 7 out of 10. Not sure I understand the local remoulade business, and the cucumber slices are a bit subtle in taste, but they are the local style. The beef dog was quite good. It was a bit coarser grained than a normal US dog, but it had excellent flavor.
Annie's Kiosk
Fjordvejen 67, 6340 Kruså
Sønderborg, Denmark